Cocoa Crunch Granola Bars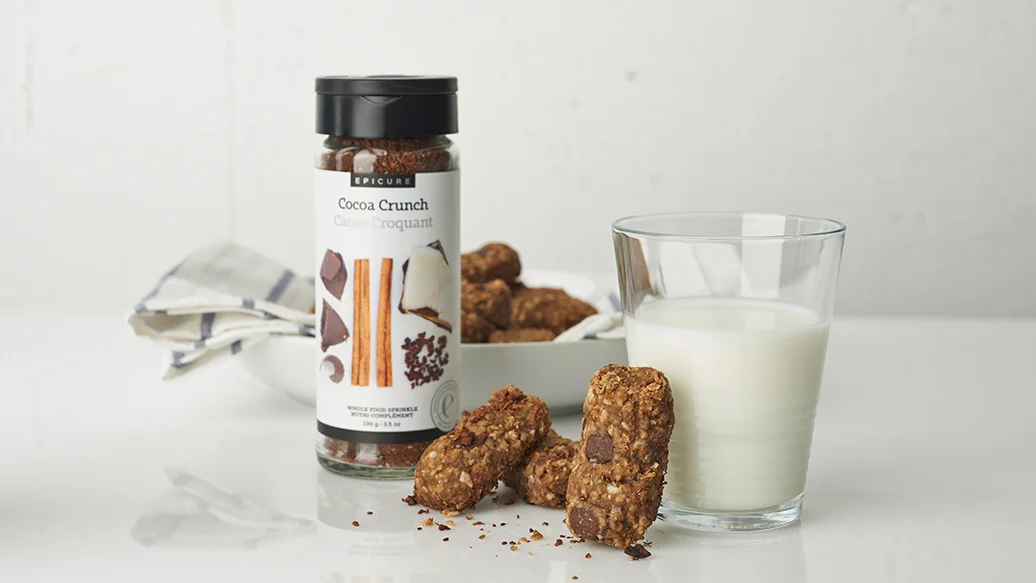 25 - 30 min
30 bars
$0.45/serving
Ingredients
1 can (19 oz/540 ml) brown lentils, rinsed and drained
1⁄2 cup vegetable oil
1 egg, beaten
1 tsp vanilla extract
2 cups quick-cooking oats
2⁄3 cup shredded coconut
1⁄3 cup bran cereal
1⁄4 cup brown sugar
1⁄4 cup semi-sweet chocolate chips, optional
1 - 2 tbsp Cocoa Crunch Whole Food Topper, to top
Preparation
Preheat oven to 350° F (180° C).
Place a lightly oiled Perfect Petites on a Sheet Pan.
In a food processor, blend together first four ingredients.
In a bowl, mix together next six ingredients.
Add dry ingredients to food processor and pulse mixture until all ingredients are just combined.
Mix in chocolate chips, if desired.
Sprinkle whole food sprinkle in each cavity and divide mixture evenly on top. Press in lightly. Bake for 15–20 minutes.
When cool to the touch, flip mold onto Sheet Pan and twist to pop out granola bars.
Nutritional Information
Per serving (1 small bar): Calories 100, Fat 5 g (Saturated 1 g, Trans 0 g), Cholesterol 10 mg, Sodium 45 mg, Carbohydrate 11 g (Fibre 3 g, Sugars 4 g), Protein 4 g.
Tips
For a vegan option, substitute egg by combining 1 tbsp ground flax seeds with 3 tbsp water.