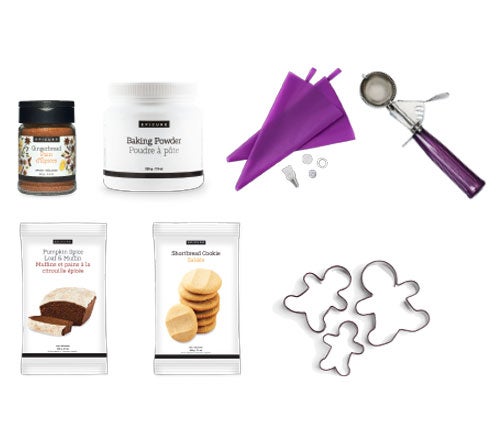 Prep, bake, and decorate! Better-for-you baked goods paired with the right tools make it easy to enjoy classic holiday cookies and more! Ideal for anyone looking to spend quality time with their kiddos in the kitchen.
Collection includes:
EXCLUSIVE! Gingerbread Spices 

A classic, fragrant holiday blend with notes of cinnamon, ginger & clove.

EXCLUSIVE! Baking Powder 

Double-acting baking powder helps create airy, fluffy & uber tender baked goods. 

EXCLUSIVE! Gingerbread Cookie Cutters

Make gingerbread people easily at home. Comes in a set of three to customize as you like. The silicone trim on one side makes it easy to identify the cutter side and comfortable to fit into the dough. 

EXCLUSIVE! Perfect Pastry Bags

Environmentally friendly bags are BPA-free, with a reusable & durable design. Comes in a set of two.