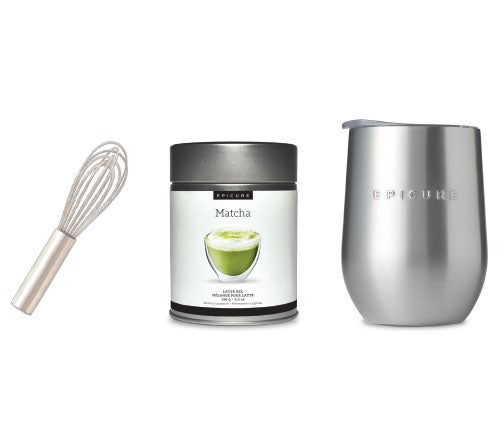 MATCHA LATTE MIX 150 g (5.3 oz) MINI WHISK 6" (15 cm) IDEAL TEMP TUMBLER VOLUME: 12 oz (1½ cups/350 ml)
Enjoy hot or cold matcha at home or on the go. This slightly sweetened matcha powder has a hint of coconut cream and pairs perfectly with the Mini Whisk for a frothy top. No need to gulp and go—the Ideal Temp Tumbler will keep it just the right temperature for hours on end.
Collection includes:
NEW! Matcha Latte Mix 
Just add hot water. This blend is made with coconut cream so you can skip the milk.
Includes 9–12 servings
EXCLUSIVE! Mini Whisk 
Made of durable stainless steel, this whisk is perfect for beating your eggs, frothing your milk, or making dips. 
EXCLUSIVE! Ideal Temp Tumbler 
Made of stainless steel, this tumbler helps keep your drink of choice hot for 3 hours or cold for 6 hours.