Potato & Broccoli Cheddar Soup with Herb & Cheddar Biscuits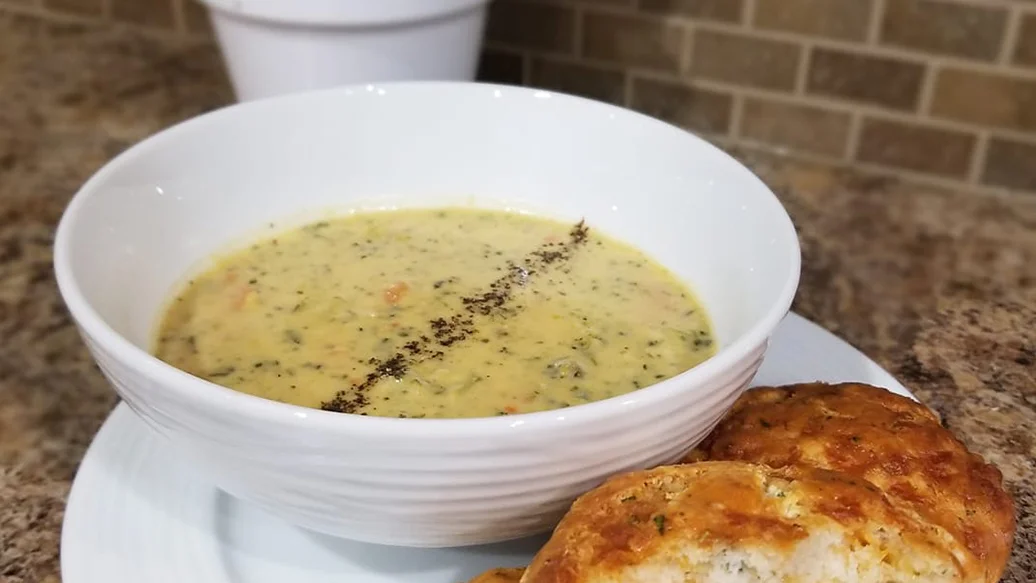 30 min
6 servings
$3.92/serving
Thank you, Stephanie Kell for this recipe! 
Ingredients
SOUP
2 cups diced potatoes
1 1⁄2 cups diced carrots
2 cups broccoli
2 cups boiling water
1 tbsp Nourish Broth Mix
1 tbsp Vegetable Broth Mix
1 pkg Home-Style Chicken Stew Seasoning
2 cups milk, your choice
2 cups shredded cheddar cheese
BISCUITS
oil
1⁄4 tsp salt
1 cup 2% plain Greek yogurt
1⁄2 cup shredded cheddar cheese
1 egg yolk
1 tsp water
Preparation
SOUP 
Place your chopped potatoes, carrots, and broccoli in the Multipurpose Steamer with 2 cups of boiling water, Nourish Broth Mix, and Veggie Broth Mix. Cover with lid and steam in microwave for 10 mins.  
Mix stew seasoning into 2 cups of milk, set aside. 
Add in 3 Onion and CCB Dip Mixes and Minced Garlic. Cover and cook for additional 2 mins.  
Using a potato masher, mash the potatoes, carrots, and broccoli until they are in very small pieces (should resemble lumpy mashed potatoes). 
Pour in seasoned milk, mix well. Microwave for an additional 2 min intervals, stirring every 2 mins. Continue to microwave until it becomes thick.  
Stir in shredded cheese; add pepper to taste. 
Serve hot and enjoy!  
BISCUITS 
Preheat oven to 375°. 
Combine bagel mix and salt in a bowl. 
Mix in Greek yogurt and dip mix, until a dough forms. 
Work in shredded cheese. 
Form into biscuit shape and place on a Sheet Pan lined with a Sheet Pan Liner that has been brushed with oil. 
Mix egg yolk with 1 tsp water, and brush on top of biscuits. 
Bake for 18–20 mins 
Nutritional Information
Per serving: Calories 520, Fat 21 g (Saturated 11 g, Trans 0.5 g), Cholesterol 90 mg, Sodium 1110 mg, Carbohydrate 61 g (Fiber 7 g, Sugars 9 g), Protein 25 g.
Tips
This can also be made on the stovetop! Follow the same instructions; however, instead of microwaving, simply allow the mixture to simmer! I highly recommend steaming your veggies in your Multipurpose Steamer first to speed up the process!